A play by Michael Frayn, directed by Jeremy Sams, playing at the Brooks Atkinson Theater in New York City
I grew up with a pretty fair appreciation for British humor. In my early teens I went through a phase of reading—devouring, more like—the comic works of P.G. Wodehouse, whose cast of characters included more than one upper class twit, plus, of course, the redoubtable Jeeves and his hapless employer, young Bertie Wooster. Don't ask me why this stuff appealed so much to a young American boy who had never been (and, years later, still has never been) to England. Maybe it was the influence of the British Invasion bands, under whose sway I was falling. Or maybe it was due to Peter Sellers, with whom I was already familiar. Or it could have been because I was reading and enjoying a great deal of British science fiction, especially from John Wyndham, C.S. Lewis, H. G. Wells, et al.
Whatever the reason was, I became something of an Anglophile. Still am. And I have always enjoyed the British sense of humor, being a big fan of Monty Python, the aforementioned Peter Sellers, Wallace and Gromit, and many others.
What's this got to do with the play Noises Off? Well, the whole thing is cast as an old-fashioned British comedy, you see, written by a rather wacky playwright who has a fascination with clothing and haberdashery, having supposedly written earlier plays titled Socks Before Marriage, Briefs Encounter, and Hanky Panky. The cast and crew are English, the play is getting ready to close after a less than auspicious run in some of the least important theaters in Britain.
Noises Off, which debuted on Broadway in November of 2001, ended its New York run on Sunday, September 8th. (The original Broadway run opened in 1983 at the Brooks Atkinson; Director Jeremy Sams staged the play in London in 2000, and it's still running there, playing to large and enthusiastic houses.) It's what you would call an old-fashioned door-slamming farce. You know—the sort of thing where people are running around a house trying to avoid each other, mistaken identities abound, and so forth. You would have thought that this type of theatrical excursion has long since lost whatever freshness it may have had, but Noises Off manages to ring some clever changes on an old concept. This is farce of the highest caliber, if such a thing can be said about farce.
Make no mistake: Noises Off is not what could be called "relevant," by any stretch of the imagination. It exists in its own bubble of silliness apart from the world of internet, 9/11, and American Fortune-100 scandals.
The set-up, briefly, is this: We are privy to the rehearsals of a group of second-rate actors performing a traditional door-slamming farce titled Nothing On. The plot of Nothing On is simple: A wealthy Brit and his wife, supposedly on vacation, sneak back into England to take care of a little business. They arrive secretly at their country house, which is up for sale. At the same time, their real estate agent and his tootsie arrive for a weekend of fooling around. At the same same time, a burglar is casing the place for a break-in. And so on and so on.
But during the rehearsal, everything is going wrong. The wife of one of the lead cast members left him that morning; one of the other male leads, who is a bit confused anyway, just can't stay away from the bottle; and there are jealous complications between others having affairs. Plus, who the hell can keep track of all those sardines?
The performance we caught, a Sunday matinee, was funny and extraordinarily energetic. The cast, including Jane Curtin of Saturday Night Live, Kate and Allie, and Third Rock From the Sun, in the role of faded star Dotty Otley, was in fine form. Central to the idea of "door-slamming farce" is action, and lots of it. Noises Off is an extraordinarily physical play with plenty of running around on the part of the actors. For example, Carson Ellrod, who plays Tim Allgood, a backstage carpenter who occasionally fills in for incapacitated actors, once cracked four ribs taking one of the many falls scripted into the play. The cast have spent hours coordinating stunts. They've even got a physical therapist around in case of similar injuries.
All of this is even more remarkable when you realize that everyone onstage, every single person in the cast, was replaced in July, just before my wife and I saw the play, for the last seven weeks of the run. I didn't find this out until I read an interview with Jane Curtin some weeks later. According to her, this was done because when she was brought in to replace Patti Lupone, it would have been too complicated to add new actors with a different sense of timing to the old ensemble's routine of deftly plotted missteps.
Well, I'm here to tell you that the new cast, Curtin and all, did a damn fine job. We were kept laughing throughout. Paul Fitzgerald, who plays a performer named Garry Lejeune who plays Roger Tramplemain, the real estate agent, at one point has to take a tumble down a flight of double stairs—that is to say, a staircase with a landing halfway down. The timing was spot-on, and I bet Mr. Fitzgerald had cause to thank the stunt coordinator for that.
The playbill for Noises Off comes with an 8-page insert for the fictional play, Nothing On. This makes for funny reading while waiting for the curtain to rise. Even the insert's ads are funny.
The first act takes place as it were on stage during a rehearsal for the play's closing performances. Lines are muffed and the director, Lloyd Dallas, played here by Leigh Lawson, is driven to distraction by his half-senile oldest actor, Selsdon Mowbray (John Horton), who is also a determined alcoholic. The whole thing looks like it's shaping up to be a disaster, but somehow almost all of the sardines (don't ask) are onstage when they should be.
The second act is identical in structure to the first, in a sense, in that it takes place during a matinee performance of Nothing On, the play-within-a-play, but for the fact that this time we see it from backstage, behind the British country house scenery. The third act, seen from the "front" again, occurs during Nothing On's final performance.
Speaking as a guy who hasn't seen many Broadway shows, this one was a thorough delight. I do enjoy the theatre, and have attended a number of plays at venues in New Jersey over the past few years. But Broadway is, well, Broadway. There's a sense of excitement in the theatre district, and of course the chance of seeing stars walking around on the street. When you're strolling along the sidewalks past the marquees or when you're standing with the crowd at intermission, it's easy to understand the thrill that still draws so many people.
Fourth row center—that's for me. You can keep your aisle seats.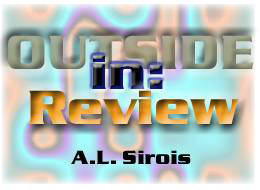 Content Copyright © A. L. Sirois 1998-2007 All Rights Reserved.