Ace Books, March 2002, hardback, 392 pages, $22.95
A SF novel by Robert Metzger, jacket art by Danilo Ducak
Isn't it great when you read a book that turns out to be even better than you'd thought it would be? That was my happy experience with Bob Metzger's kick-ass novel, Picoverse. If this doesn't win the Nebula, I'll be disappointed. I don't usually make predictions about such things, but here is a book that has to make the 2002 list of finalists at the very least.
Georgia Tech physics researcher Dr. Katie McGuire has her work cut out for her. The funding for her latest project, the study of turbulence in the high-speed ultra-hot plasmas produced by a device called a Sonomak, is about to be cut, setting back the pace of fusion research. The antics of her brilliant young son, Anthony, have just driven his latest nanny to quit. Worst of all, although she doesn't know it yet, Katie's egotistical ex-husband, Horst, who is in charge of the Sonomak project, is determined to carry out a dangerous experiment past the simulation stage.
The experiment misfires, destroying the Sonomak and part of the lab and creating a bizarre warping of space. To the surprise of both Horst and Katie, two of the government observers, the beautiful and mysterious Alexandra Mitchell and her lackey, Quinn, agree to supply additional funding to build a new and even more powerful Sonomak. Not even Horst can believe that Mitchell and Quinn are serious in their attempt to construct an entirely new universe, a picoverse one million-millionth the size of our own.
But when the two transparent antennae erupt from Alexandra's forehead to connect directly with their brains and that of fellow researcher Jack Preston, they have no choice but to believe her. Their pursuit of her will take them to a universe so small that it barely extends beyond our Solar System: a dead-end universe with only one star, a universe where Albert Einstein, shocked at what has happened to the stars, has given up science to become a religious fanatic. Here Katie and Jack find themselves trapped, hunted by the worldwide Soviet Empire and aided by the beleaguered American president, Will Rogers, and his science advisor, Nikola Tesla.
Robert Metzger is perhaps best known to the sf world as the author of a long running science column in the SFWA Bulletin that has probably inspired dozens of sf stories over the years. He's a real-life scientist himself, a researcher at Georgia tech in semiconductors and high-speed telecommunications. The book reflects his familiarity with both the worlds of academia and corporate America.
Having said that, though, I wouldn't want you to think that Picoverse is in any way dry. Far from it. Not only does it have a fast-moving plot and strong characters, it is in places heart-wrenching. Katie McGuire's young son is snatched away from her in one universe nd not returned to her until many years have passed, so many that he has grown bitter and resentful at her failure to rescue him and refuses to see her ever again. Metzger does a very good job of portraying her uncomprehending misery and shock. I didn't expect the emotional depth I found in this novel, which is one reason why I want you to read it. Yes, the fate of the universe itself is at stake, but Metzger is canny enough to realize that that isn't enough. He puts Katie's heart on the line as well, giving us some very emotional reasons to root for her, thereby lifting Picoverse out of the realm of skiffy for geeks. This is sf for adults.
Now, about that universe whose fate is at stake—well, readers who keep up with the current thinking in cosmology will find a hint or two at the very beginning of this novel that not all is as it seems. All this comes back, most satisfactorily, to roost at the very end. What I had thought was a slip on Metzger's part turned out to be a set-up. I won't be more specific than that. In fact, I don't want to say too much about the plot. Some of the twists are so unexpectedly delightful that I wouldn't want to spoil them for anyone.
Way to go, Bob. Picoverse rocks.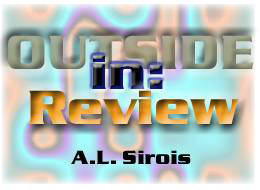 Content Copyright © A. L. Sirois 1998-2007 All Rights Reserved.