THE CHURCH OF DEAD GIRLS
Stephen Dobyns
An Owl Book - Henry Holt & Co.
388 pages
Publication date 1998
Stephen Dobyns is well-known as a poet - probably better known than as a novelist despite his nineteen novels, including nine in the best-selling "Saratoga" mystery series. It should therefore come as no surprise that THE CHURCH OF DEAD GIRLS is both literate and absorbing.
Three adolescent girls vanish over a period of months from the small upstate New York village of Aurelius. As the town grows increasingly terrified, people begin mistrusting each other. Not even the unnamed narrator, a high school biology teacher, is free from suspicion - and although he isn't the murderer, he does indeed have a secret of his own. The girls, when found, turn out to have been slain and ritually arranged in a specially kept attic room. Each girl is wearing a handmade velvet gown to which has been sewn or glued dozens of small paper suns, moons, animal silhouettes and so on, along with small brass bells and little mirrors, pieces of metal and multicolored glass balls.
Worse, each mummified girl's left hand has been severed at the wrist. The hands are nowhere to be found.
Even before the girls disappear, however, Janice MacNeil, a promiscuous local woman, is murdered - and her left hand has been amputated. Her troubled son, Aaron, absent for several years after biting off the ear of a tormentor, returns to town with the intention of discovering her killer.
But when the girls vanish, people begin to take the law into their own hands. Old wounds are opened and old scores are settled, with tragic results.
THE CHURCH OF DEAD GIRLS is a clever, unnerving and chilling thriller. Dobyns does a splendid job of dissecting small-town life, occasionally using a local college teacher who is despised for his Marxist politics as a mouthpiece. This is a thriller with a heart as well as a mind. Beyond this, though, it's the book's characterizations that are its strengths. There is, as well, a particularly creepy ending that will almost certainly raise goosebumps. Believe me, I've given nothing away by mentioning the attic church itself.
Of special note is the care with which Dobyns renders children and adolescents. Like Stephen King, he seems to be able to get them right. THE CHURCH OF DEAD GIRLS owes much of its taut suspense to the fact that the young female characters - including Sadie Moore, daughter of the local newspaper editor, become much more than merely potential victims. As the noose draws tighter and the killer becomes more unhinged and desperate, it's impossible not to feel a twinge of dread as each threatening scene unfolds. You don't want anything bad to happen to these people, in part because Dobyns has taken care to show us how much they have already suffered in their lives.
Which is, for my money, the mark of an outstanding book - that we care about the characters as much as we care about the story.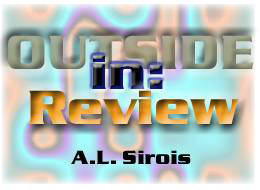 Content Copyright © A. L. Sirois 1998-2007 All Rights Reserved.