BAG OF BONES - a novel by Stephen King
Pocketbooks paperback edition, June 1999
732 pages
Cover illustration by Tom Hollman
Buy the Print Book or the E-book
Someone in the guest book on Stephen King's web site described him as "the Beatles of horror fiction." I think that's about right. Like the Beatles, King is pretty much the one to beat, although (also like the Fab Four) he has some close competition--Dean Koontz as the Rolling Stones and maybe Clive Barker as the Who.
Nevertheless, Stephen King is the most easily accessible horror writer of his generation. This is not to say that he is the best. I personally have been more disturbed by Thomas Disch (in his short works--his novels, though well written indeed, veer around too much). Joyce Carole Oates's ZOMBIE is at least as horriffic as anything King ever wrote. King, however, has the knack for delving into the broadest vein of fears that we Westerners share, which is why he is more popular than any of the above. His prolixity doesn't hurt his marketability, either, despite an occasional clinker such as THE TOMMYKNOCKERS.
This time out, in BAG OF BONES, King presents a melancholy and moving ghost story. Four years after Mike Noonan, a fortyish bestselling novelist, loses his wife to an unsuspected brain aneurysm he is still so shaken by her loss than he can't write. A powerhouse in his happier days, he's socked four books away in his trunk and these have carried him through the lean period. But the cupboard is bare now and Noonan is under pressure from his agent to produce something new. Unable to confess that his creative well is dry, Noonan retires to Sara Laughs, his summer house in rural Maine, determined to jump-start his writing ability.
Soon he finds himself drawn into the machinations of the reclusive, ailing and powerful millionaire Max Devore, who controls the town and who is trying to gain custody of his granddaughter, Kyra, from her young widowed mother, Mattie. And it develops that Sara Laughs is haunted - but is the spirit that of Noonan's dead wife, or a black woman who was brutally raped and murdered on the site many years earlier? Noonan finds himself attracted to Mattie Devore, which he knows is not a wise thing but he is so lonely that he cannot help himself. He will have cause to regret it, as he becomes ever more involved in a decades-old mystery that the entire town has tried to cover up.
As usual, King masterfully sets up his plot and subplots, all interwoven so that before you know it, you're sucked into the lives of these people. Also as usual, King has the ability to flesh out even his secondary characters so well that everyone in the book rings true as a personality. He ties up the plot in a nice neat package at the end, which is satisfying--but, though the story itself comes full circle and Max Devore's plans are foiled when Noonan literally unearths the secret the town has been trying to hide, King's characters do not emerge unscathed from their adventures. Sadly, some do not emerge alive.
BAG OF BONES has less violence than some of King's other recent work, although when it occurs it is genuinely jolting and he doesn't use it gratuitously, as he seemed to do, for example, in ROSE MADDER. There is as well an almost overpowering sense of frustration and unfairness to some of the proceedings, as in real life.
This novel doesn't seem to have attracted the attention of some of King's better-known books, which is a shame because it's a mature work that does a splendid job of exploring what it means to be part of a family. If you like Stephen King you will probably enjoy BAG OF BONES. If you don't like King, there's probably no way this review will change your mind--so I guess we have nothing more to say to each other.
Buy the Print Book or the E-book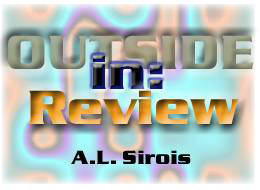 Content Copyright © A. L. Sirois 1998-2007 All Rights Reserved.