Alice in Wonderland - a film for television
Produced by Dyson Lovell
Directed by Nick Willing
Written by Peter Barnes
You can order this title (available in May) or buy the Disney video
A charming Victorian house remains just that even with a fresh coat of paint. So it is with Alice in Wonderland. She has withstood the test of time: changing social conventions and the increasing sophistication of her target audience haven't dimmed the book's sweet, innocent mad charm. NBC's recent three-hour teleplay adaptation slaps some new paint on Alice, but her essential character shines through.
If the show's "look" seems a little familiar, there are good reasons. The executive producer, Robert Halmi, Sr., also helmed NBC's Emmy-winning miniseries "Gulliver's Travels," the Emmy-nominated production of "The Odyssey" and 1998's multiple-Emmy nominee "Merlin". Dyson Lovell, who produced "The Odyssey" and "Merlin," produces "Alice" as well. Special effects wizard Nick Willing ("Photographing Fairies") directs from a teleplay by Peter Barnes ("Merlin").
Gotta tell ya, I am an unabashed Alice fan. I always have been, I always will be. She is a heroine of resource and aplomb, unflappable in the face of threat and furor. Rather a lot of that comes through in this latest version of her adventures, edited together from both Alice in Wonderland and Through the Looking Glass with some new dialog and connective material. Although much of the new writing retains Lewis Carroll's charm, not all of the episodes fully satisfy. For example, I could have done without Tweedle Dum and Tweedle Dee, although I greatly enjoyed the Walrus (Peter Ustinov) and the Carpenter (Pete Postelthwaite) as the Dums presented it. I was disappointed by the White Knight - not by Christopher Lloyd's delightful turn as the befuddled chessman, but by the somewhat awkward pruning of the Knight's part. In fact, the whole underpinning of the chess motif is missing here, somewhat to the teleplay's detriment. But there's much to enjoy: Miranda Richardson as a shrill, manic Queen of Hearts, Simon Russell Beale in an expanded and delightful role as the King of Hearts, Whoopi Goldberg's outstanding interpretation of the Chesire Cat, and, best of all, Martin Short's purely brilliant Mad Hatter. It's going to be hard for anyone to follow in Short's footsteps when it comes to future interpretations of this beloved character.
Some of the supporting characters are played by less well known actors who are completely hidden in costumes, and some, such as the Gryphon, have been handed over to the famed Jim Henson FX team. And, while I enjoyed Gene Wilder's melancholy Mock Turtle, Cary Grant still has a lock on that role dating all the way back to the Nineteen Thirties. Tina Majorino, as Alice, is a delightful and self-possessed young lady whom children will enjoy relating to.
I found the framing device, Alice being forced to sing for her neighbors at a tea party, delightful and probably a better springboard into wish fulfillment than the good Reverend Charles Dodgson's idea of a desultory afternoon nap.
So if you haven't seen it, do yourself a favor - rent the video (or even buy it), settle in with your kids for a charming evening full of lovely effects and some sterling performances. Even the slow parts have much to recommend them. Overall, Alice in Wonderland is a genuine family treat.
You can order this title (available in May) or buy the Disney video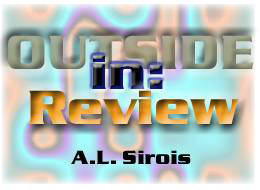 Content Copyright © A. L. Sirois 1998-2007 All Rights Reserved.